Seattle Laptop, The Laptop Experts!
Over 50,000 Laptops Serviced!
Laptop Repair - Data Backup
Laptop Repair - Data Backup: Quite often we are asked to back up a customer's data. We can either burn the data to dvd's, copy it to the laptop's hard drive (after reinstalling the operating system) or copy it to an external hard drive, or flash drive. We can not back up programs such as Word, or Office, but we can back up the documents created. If requested we will copy data back into folders like my music, my pictures, or my documents. If a customer needs data imported into prgrams like Outlook, or Quickbooks please let us know, and we can do this for an affordable price. We will need the installation cd's, install codes, and all necessary passwords so we can install the programs, before we import data into programs like Outlook and Quickbooks.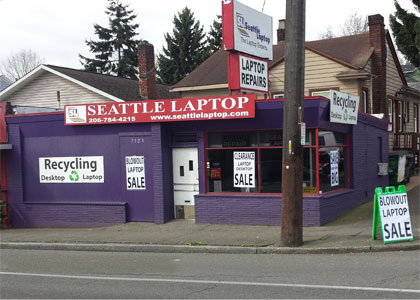 Many customers would like their laptop to be "like it was" and this takes some time. We will do all we can to be sure your laptop is ready for use when you pick it up, but our customers need to let us know exactly what they require so we can assist them. We can back up our customer's data, and then help them move it so it can be easily accessed.
If you would like more information about backing up data, please visit Seattle Laptop's Data Backup page. There you will find helpful instructions on backing up data a few different ways.