Seattle Laptop, The Laptop Experts!
Over 50,000 Laptops Serviced!
Laptop Power Jack Repair
We Repair PowerJacks: One of the most common laptop problems we see at Seattle Laptop is a broken powerjack. When you plug in your laptop's adaptor, it connects to a small plastic and metal piece soldered to the system board. (in most cases) If the adaptor cord is pulled, while plugged into the laptop, this small plastic piece can easily be broken. For your laptop to properly connect to power, this piece (the power jack) would need to be repaired, or replaced. Most manufacturers would consider this a reason to completely replace the system board, especially since this repair can be difficult.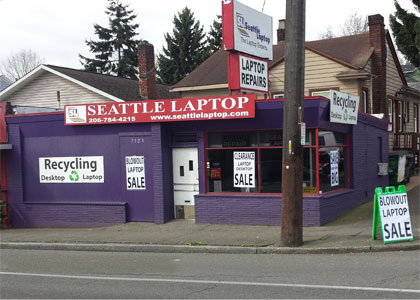 In most cases we can repair the damage, without our customer actually needing to purchase a new system board. This saves our customers hundreds of dollars, and time lost replacing their laptop. This repair is not easy, and the area where the power jack attaches to the system board is quite often damaged also. This damage would also need repaired, even if it means replacing the traces in the system board.
Quite often when the power jack breaks, it shorts out other components on the system board, and these will also need to be replaced. Most of our competitors that claim they "fix" power jacks do not have the equipment, tools, replacement parts, or expertise to properly fix a system board that was shorted when the power jack broke.
We strongly urge consumers to make sure any company doing this type of repair on their laptop's system board is fully qualified, and experienced. We have seen many laptops damaged by un-qualified technicians attempting power jack repairs. In many cases we can fix the problems they have caused, but not always. Only trust your laptop to the best!
Seattle Laptop Inc. 7525 Aurora Ave N. Seattle WA 98103.
Call 206-784-4215
We are open:
11 - 4 Tuesday - Sat
Closed - Sunday - Monday