Seattle Laptop, The Laptop Experts!
Over 50,000 Laptops Serviced!
Enjoy Your New Laptop!
Please Read About Taking Care Of Your New Laptop Below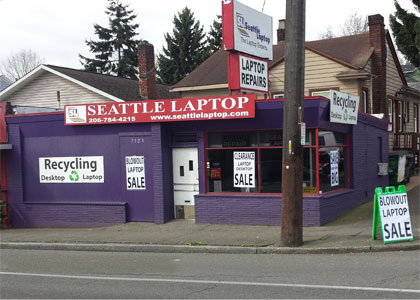 Backing Up: Remember to back up the data you don't want to lose. A hard drive can fail at any time, and other things like viruses, and accidents can, and will happen. It is wise to keep your backed up data in a different location than with your laptop. We recommend using automatic backup software, or internet based backups, as well as a backup system you control, such as external hard drives.
Anti Virus – Anti Malware: Remember to keep your Windows updated, and your anti virus program updated. There is no anti virus software that can keep you 100% protected, but keeping your protection up to date is very important. Your laptop may also accumulate malware, and this will need to be cleaned from time to time by using the latest greatest malware cleaning program.
Clean Your Fan: With use, a laptop will collect dust in the heat sink just like lint in a dryer. Depending on your environment, this lint needs to be cleaned regularly to keep your laptop from overheating. We recommend cleaning every 6 months to be safe. More often if your environment is very dusty. Seattle Laptop does not charge for cleaning fans / heat sinks. Bring in your laptop at your convenience and we will clean it while you wait. It only takes a couple minutes! If you notice your cooling fan seems to run all the time, it may be because your heat sink is clogged.
Hinges: Over time, the screws in laptop hinges work loose. If your screen starts to feel loose please bring it in so we can check the screws. Seattle Laptop does not charge for tightening screws on screens, or hinges, and we will look at your laptop while you wait.
Power Jack: The plug inside the laptop where you plug in the adapter is very easy to damage. When using your laptop be sure to never put pressure on the cord by tilting your laptop, or placing it on a surface that puts stress on this connection. Never put your laptop into a carrying case while plugged in, and when carrying a laptop, make sure the cord never hits anything solid, for this may damage the system board.
Carrying Case: In order to safely carry your laptop about, investing in a good padded carrying case is important. When putting your laptop inside your carrying case do not put the adapter on top of the screen, because if it may cause the screen to break. Place your adapter in your carrying case on the same side as the bottom of your laptop. You may have to insert your laptop in your case upside down to do this.
Seattle Laptop Inc. 7525 Aurora Ave N. Seattle WA 98103.
Call 206-784-4215
We are open:
11 - 4 Tuesday - Sat
Closed - Sunday - Monday