Seattle Laptop, The Laptop Experts!
Over 50,000 Laptops Serviced!
Laptop Repair - Laptop Virus Infection Repair
Laptop Virus Cleaning and Repair : If your laptop has become infected with viruses we should be able to repair it, and then we will help you aviod getting re infected if possible. We get a lot of laptops brought in for repair that are completely unuseable because of virus infections. Many of them were not protected by current anti virus programs, but other have up to date protection and were infected any way unfortunately. We know of now way to be 100% safe from viruses, but if you do have an infected laptop we can help.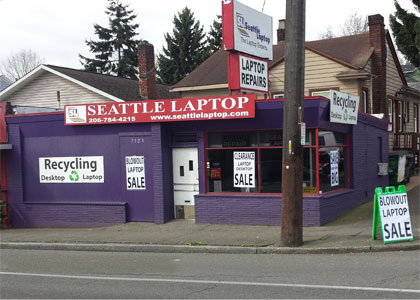 Seattle Laptop recommends having us back up your data, and reload your operating system from scratch if at all possible. This is the only way to guarantee your viruses have been cleaned completely. If we do this YOU WILL NEED TO RELOAD ALL YOUR PROGRAMS. We can save data, but not programs. Hopefully you have the disks available so you can reload your software, including anti virus. You will also need to re import your data, or reorganize it. Seattle Laptop will take care of getting your laptop set back up after we reload the operating system if asked.
If there is a reason you can't format your hard drive, and want Seattle Laptop to attempt to clean the viruses, and repair any operating system problems we find, we will be happy to try. In most cases we can fix the laptop and clean all the viruses, or make it a lot better. Unfortunately sometimes we can not repair the damaged operating system. Viruses can corrupt a customer's software so bad that it can not be repaired. In this case our customer needs to pay us to try to clean the viruses, and then pay us to back up the data and reload the operating system, which can be much more expensive than just wiping the hard drive from the start. It is up to the customer, and we will do what they ask, but we strongly recommend reloading from scratch if your laptop is heavily infected.
Seattle Laptop Inc. 7525 Aurora Ave N. Seattle WA 98103.
Call 206-784-4215
We are open:
11 - 4 Tuesday - Sat
Closed - Sunday - Monday