Seattle Laptop, The Laptop Experts! Over 50,000 Laptops Serviced!
Laptop Repair - Laptop Graphics Card Failure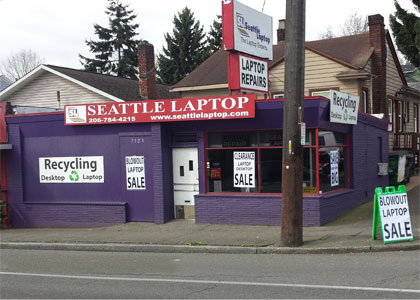 Laptop Graphics Card Problem Repair : If your laptop displays strange characters on your screen, seems to turn on, but won't boot, or freezes when moved it may have a graphics card, or video card failure. High end video cards in modern laptops in many cases generate a large amount of heat, and many different models have problems keeping the laptop's graphics card, or video card cooled properly. If lint builds up on a laptop's heat sink, and the fan can not keep the processor, or video card cool, one or both components may overheat, and fail.
Many different models have problems that develop with their vidoe card, or graphics card. We saw so many different laptops coming in with video issues, Seattle Laptop purchased very advanced system board repair equipment, designed for reflowing solder on laptop graphics cards. This repair is extremely difficult, but we have had great success repairing system boards with failing graphics cards. In some cases we can reflow the solder, and in other cases we replace the graphics cards, or reball them. It all depends on what type of problem the laptop is experiencing.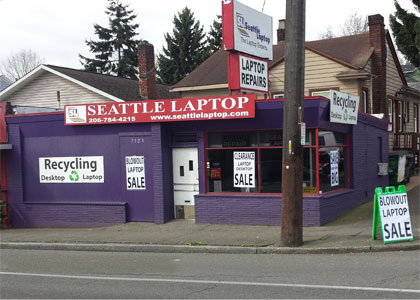 Many laptops that have graphics card problems on their system boards are repairable. Some manufacturers are aware of the problem, and they have updated their bios software to help keep the graphics cards cooler. If you have an HP DV series laptop we recommend flashing your bios. Remember, there is always some risk of a bios flash going bad, but it is rare.
Seattle Laptop specializes in DV2000, DV6000, and DV9000 video card repair. These are common laptops and video card failures occur quite often. We have had great success repairing graphics cards on the system boards of certain models of Dell, Sony, and Toshiba laptops also.
Seattle Laptop also uses our equipment to repair desktop video cards that fail for the same reasons. We have been successful at repairing almost every single desktop video card we have attempted to repair.